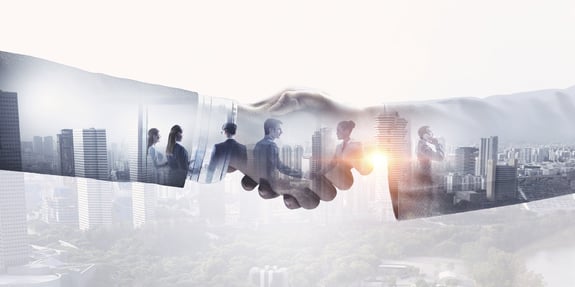 Strategic Business Growth
At SIX, we believe there's so much more to marketing than just running campaigns. We offer services to help grow your business holistically.
Grow with SIX
The Fastest, Most Profitable Business Growth Possible
SIX is a business growth firm, not just a marketing agency. We believe that realistic, sustainable growth is only achievable when all facets of your business are unified towards one common goal – profitable growth. While marketing is at our core, it isn't a blindfold that keeps us from seeing your business holistically. Our dynamic approach focuses on the crucial elements of an organization that drive success. This is crucial when a company is rebranding for growth and business development.
We offer a variety of services to support your business' continual growth and provide dynamic strategies that evolve with you. Your growth plan will be customized for your needs, your market, and your goals.
Why hire just a marketing agency, when you can partner with a growth firm?
Results You Can Expect
More leads
Increased sales
Increased revenue (& profit) year after year
More power in your market
Better brand awareness & reputation
Sustainable, scalable solutions & processes
Decreased risk
More customers
Better word of mouth
Additional revenue streams
Increased sales to existing customers
Higher customer retention
Higher employee retention
More top-level talent
How we begin client relationships.
The 5 Step Partnership Process
At SIX, our clients will tell you that we work to fully understand your business before we jump to a proposal. We believe a partnership is an equal agreement that provides a healthy long-term working relationship. At each step of our process, we both determine whether to move on to the next steps or not.

1
Meet With A SIX Consultant
It all begins with a conversation between your team and ours. We will ask several questions to clearly identify your goals, challenges, vision, and budget. We will answer any questions you may have about SIX as well.
2
DISCOVERY MEETING
The purpose of the discovery meeting is to take a deep dive into your organization, identify the challenges you are facing, quantify the impact on the organization, and determine if it's something we can help with.
3
Review Findings
During the next meeting, we will review our initial findings from our previous conversations. Our goal is to confirm and clarify we fully understand your needs. If we think we can help, we will begin developing recommendations on how to solve your problems.
4
Present Recommendations
If we believe we can help solve your challenges, then we will put together specific recommendations documenting how we can help. Our recommendations are based precisely on our conversations; we customize every plan to fit your business' needs.
5
Proposal & Contract
We move on to the proposal step when both teams determine it's a good fit and agrees that the plan set forth will help solve your problems within your budget and timeline. The proposal provides a clear set of deliverables and investment requirements to help you make your decision.

You Can Count on SIX as a Partner for Life
We still have clients with us from the day we opened over 11 years ago. We are committed to doing whatever it takes to help you continually grow and we have the ability to help you through each stage of growth.
Ready to Get Started?
A No-Pressure Partnership
We're committed to developing a fair and open partnership with our clients. It is our firm belief that any partnership should be built on trust and confidence. During any phase of our discussions, it's important that you understand it's completely okay to stop the process. We will do the same if we believe we're not the best fit.
We know we're not the right agency for everyone and we know that not everyone is our client; however, we need to have an open discussion to learn this information about one another. There is no pressure ever from our team. Whether you have worked with a dozen agencies before or this is your first experience, let's schedule a call to see how we can help.